SUSTAINABILITY IS, FOCUSING ON ERGONOMICS IN THE PACKAGING PROCESS.
Efficient processes and comfortable workflow – the SMARTline Packing Stations offer both: unnecessary movements are avoided, as the packer always has all of the packaging materials conveniently at hand. The individually customised packing stations are ergonomically designed in line with the Storopack Working Comfort® principle and not only increase the productivity of your processes, but also the well-being of your employees.
The modular concept of the packing stations prepares your packaging processes for the future: thanks to the modular principle, the packing stations can be expanded at any time and thus tailored to the packer's individual needs and the requirements of your packing process, seamlessly integrated into any process, and applied to any packaging material: whether it's AIRplus®, PAPERplus®, FOAMplus®, or Loose Fill, SMARTline Packing Stations offer just the right comprehensive solution.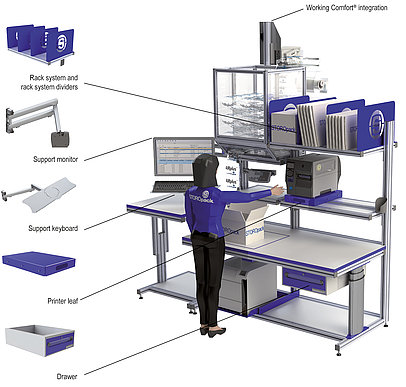 The benefits of the SMARTline Packing Stations at a glance:
Comprehensive solution for all of Storopack's packaging materials: AIRplus®, PAPERplus®, FOAMplus®, and Loose Fill
Seamless integration into your packing process
Ergonomically designed in accordance with the Working Comfort® principle
Can be expanded at any time thanks to the modular concept and extensive accessories
Visually appealing smart aluminum construction